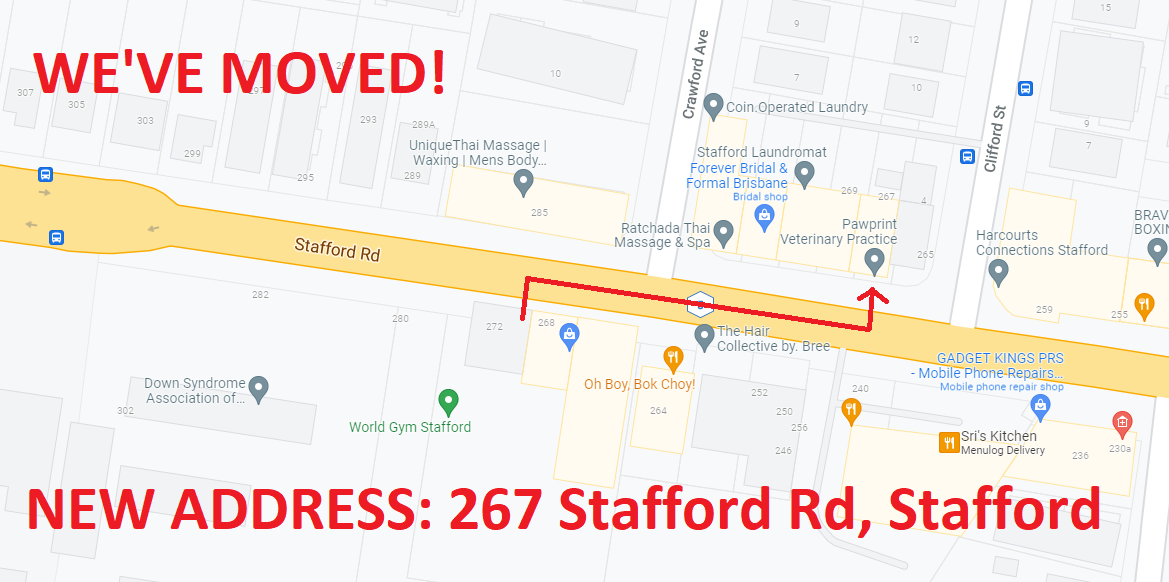 "Compassionate & loving care for our patients & owners"

Dogs and cats make up the majority of our patients here at Pawprint Vet Practice. All of our staff have either dogs, cats or both, at home.
Read more
Pawprint Veterinary Practice, Stafford
Pawprint Veterinary Practice first opened its doors in May 2005. Since then, the practice has grown to encompass many species of pets and wildlife.
The most common pets we see are of course, dogs and cats, however in the last few years the practice has treated many other species including rats, mice and guinea pigs .
The wildlife treated have ranged from Brushtail and ringtail possums, to bats, several species of lizards and snakes, and many wild birds (a Boobook owl with a broken wing being one of the successes).
270 Stafford Rd, Stafford Qld 4053
Modern Technology & Practices
We endeavour to use the latest technology and advances in Veterinary medicine and surgery. We offer full patient care with services such as dentistry, digital radiography, in-house blood testing.
The nursing staff are fully trained but most of all they are compassionate, and love caring for their patients and owners. Among the Veterinarians there is 70 years of combined experience.
The Vets attend various seminars and webinars keeping up to date with the latest information available.
Dogs

55%

55%

Cats

35%

35%

Rodents

7%

7%

Wildlife

3%

3%